JUNIOR SCIENTISTS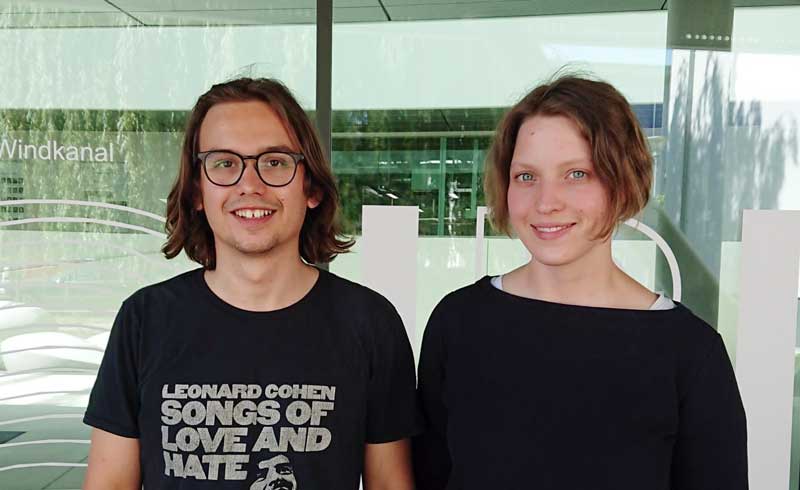 Pablo Hernández López & Laura Orphal-Kobin, die Nachwuchsvertreter
Juniors representative
The junior scientists of IRIS Adlershof have elected Mrs. Laura Orphal-Kobin as their representative in the IRIS bodies and Mr. Pablo Hernández López as her deputy. Thus, the young scientists are represented in the IRIS general meetings as well as in the IRIS Council with the right to speak, propose and vote.
Laura Orphal-Kobin is a PhD student in the group of Dr. Tim Schröder within the graduate school "Berlin School of Optical Sciences and Quantum Technologies" and is doing research on the optimization of diamond nanostructures.
Pablo Hernández López is a PhD student in the group of Dr. Sebastian Heeg and is doing research on one- and two-dimensional new materials. He is a member of the graduate school "Advanced Materials".
Planed events:
February 2023 - lab tour and breakfast
Previous events:
13.12.2022: X-mas party for Junior scientists
On 13.12. the young researchers celebrated a Christmas party at a common room in the IRIS research building. In keeping with the occasion, they were also asked science quiz questions related to Christmas, resulting in many interesting conversations. Of course, Christmas music was also not to be missed. Fortified by stollen and mulled wine, they thus celebrated the holiday season and share their love of science with their colleagues and friends.
24.11.2022: First IRIS juniors breakfast and lab tours session
On Nov 21, 2022 the IRIS junior scientists met for a breakfast and a lab tours session focused on quantum optics.
Pablo Hernández López, the juniors representative and organizer, explains: "Our colleagues Elisa & Martin (AG Markus Krutzik) and Julian & Jonas (AG Tim Schröder) showed their labs and introduced their fields of research. This event was the first one of a series of lab tours that will continue next year. Thanks to the presenters and to everyone who came. It was great to meet so many new colleagues and to discover some of the very interesting work done at IRIS Adlershof."
List of our Junior Scientists
| | | | |
| --- | --- | --- | --- |
| First Name | Last Name | Position | Supervisor |
| Doguscan | Ahiboz | PostDoc | Schröder |
| Deniz | Albayrak | Master student | Benson |
| Emily | Albert | Master student | Koch, N. |
| Ben | Alex | Master student | Draxl |
| Gloria | Alexander | Master student | Balasubramanian |
| Ha | Anh Tran | Master student | Bojdys |
| Marco | Arreaga | Master student | Plefka |
| Paul | Balduf | Doctoral student | Kreimer |
| Felix | Bär | Master student | Koch, C. T. |
| Xavi | Barcons Planas | Doctoral student | Benson |
| Julian | Barrat | Doctoral student | Plefka |
| Jannis | Barrera | Doctoral student | Limberg |
| Kirill | Baturin | Master Student | Balasubramanian |
| Tim | Bechtel | Master student | Draxl |
| Fabian | Beckmann | Doctoral student | Limberg |
| Mohamed | Belhassen | Doctoral student | Schröder |
| Marko | Berghoff | PostDoc | Kreimer |
| Gabriel | Bliard | Doctoral student | Forini |
| Jan | Boelke | Doctoral student | Hecht |
| Florian | Böhm | Doctoral student | Benson |
| Roberto | Bonezzi | PostDoc | Hohm |
| Julian | Bopp | Doctoral student | Schröder |
| Vasilis | Bountris | Doctoral student | Leser |
| Alexander | Buccheri | PostDoc | Draxl |
| David | Burmeister | Doctoral student | Bojdys |
| David | Burmeister | Doctoral student | List-Kratochvil |
| Stefano | Calati | Doctoral student | Stähler |
| Goshtasp | Cheraghian | PostDoc | Bojdys |
| Kylie | Chinner | Doctoral student | Dumele |
| Jonghoon | Choi | PostDoc | Limberg |
| Helen M. | Chrzanowski | PostDoc | Ramelow |
| Antonio | Cillis | Master student | Draxl |
| Tomas | Codina | Doctoral student | Hohm |
| José David | Cojal González | PostDoc | Rabe |
| Luke | Corcoran | Doctoral student | Staudacher |
| Ilaria | Costa | Doctoral student | Forini |
| Janardan | Dagar | PostDoc | Unger |
| Ninon | De Mecquenem | Doctoral student | Leser |
| Angelika | Demling | Doctoral student | Stähler |
| Lorena | Dhamo | Doctoral student | Benson |
| Felipe | Diaz Jaramillo | Doctoral student | Plefka |
| Patrick | Dieu | Master student | Koch, C. T. |
| Daniel | Duarte-Ruiz | Doctoral student | Cocchi |
| Joshua | Edzards | Master student | Cocchi |
| Sayed M. | El-Refaei | Doctoral student | Pinna |
| Kristiane | Elsner | Master student | Koch, C. T. |
| Tim | Eppler | Master student | Dumele |
| Arik | Ermshaus | Doctoral student | Leser |
| Sam | Fairman | Doctoral student | Koch, C. T. |
| Mohsen | Fattahi | Master student | Bojdys |
| Patrick | Federmann | Doctoral student | Limberg |
| Marco | Flores | Doctoral student | Kramer |
| Nicolas | Fratzscher | Master student | List-Kratochvil |
| Lennart | Frohloff | Doctoral student | Koch, N. |
| Julian | Frost | Master student | Dumele |
| Emil | Fuhry | Doctoral student | Balasubramanian |
| Simon | Gabaj | Master student | Draxl |
| Michele | Galli | Doctoral student | Malek |
| Samuele | Garda | Doctoral student | Leser |
| Fabian | Gärisch | Doctoral student | List-Kratochvil |
| Christos | Gatsios | Doctoral student | Koch, N. |
| Oliver | Gerull | Master student | Benson |
| Mohammad Fardin | Gholami | Doctoral student | Rabe |
| Lukas | Gierster | PostDoc | Stähler |
| Alok | Gokhale | Doctoral student | Schröder |
| Esteban | Gomez Lopez | Doctoral student | Benson |
| Ignacio | Gonzalez Oliva | Doctoral student | Draxl |
| Max | Gottwald | Doctoral student | Staudacher |
| Niklas | Grabicki | Doctoral student | Dumele |
| Tobias | Grosser | Doctoral student | Balasubramanian |
| Sarah | Grützmacher | Doctoral student | List-Kratochvil |
| Juan Pablo | Guerrero Felipe | Master student | Cocchi |
| Michele | Guerrini | PostDoc | Cocchi |
| Sinan | Gündoğdu | PostDoc | Schröder |
| Benedikt | Haas | PostDoc | Koch, C. T. |
| Maurice | Haffner | Master student | Koch, C. T. |
| Thomas | Häffner | PostDoc | Benson |
| Hanen | Hamdi | PostDoc | Cocchi |
| Joscha | Hanel | Master student | Benson |
| Charlotte | Hartmann | Doctoral student | Limberg |
| Guangyu | He | Master student | Koch, C. T. |
| Maya | Heine | Doctoral student | Stähler |
| Michael | Hengge | Doctoral student | List-Kratochvil |
| Pablo | Hernández López | Doctoral student | Heeg |
| Franziska | Herrmann | Master Student | Schröder |
| Max | Heyl | Doctoral student | List-Kratochvil |
| Marcus | Hilbrich | PostDoc | Leser |
| Manoar | Hossain | PostDoc | Draxl |
| Han-Yu | Hou | Doctoral student | Limberg |
| Axel | Hübner | Doctoral student | Draxl |
| Khalil | Idiab | Doctoral student | Staudacher |
| Sumaya | Ifland | Doctoral student | Rabe |
| Svante | Ihrig | Doctoral student | Hecht |
| Georgios | Itsios | PostDoc | Malek |
| Matheus | Jacobs | Doctoral student | Cocchi |
| Gustav Uhre | Jakobsen | Doctoral student | Plefka |
| Wang | Jiao | Doctoral student | Pinna |
| Mike | Johannes | Doctoral student | Benson |
| Grégoire | Josse | PostDoc | Malek |
| Estelle | Jozwiak | Doctoral student | Pinna |
| Robert | Jungnickel | Doctoral student | Balasubramanian |
| Christoph | Jurissek | Doctoral student | Hecht |
| Moritz | Kade | Doctoral student | Staudacher |
| Maximilian | Kähler | Master student | Schröder |
| Marco | Kapitzke | Doctoral student | Stähler |
| Svetlana | Karbysheva | PostDoc | Balasubramanian |
| Paul | Kaufmann | Doctoral student | Ramelow |
| James | Kennington | Master Student | Cocchi |
| Günther | Kewes | PostDoc | Benson |
| Rob | Klabbers | PostDoc | Staudacher |
| Kristin | Klaue | Doctoral student | Hecht |
| René Pascal | Klausen | Doctoral student | Kreimer |
| Hannah | Kleine | Master student | Draxl |
| Kristin | Knebel | Master student | List-Kratochvil |
| Raphael | Kopp | Master student | Plefka |
| Konstantin | Krause | Doctoral student | Limberg |
| Tim | Kroh | Doctoral student | Benson |
| Jannis | Krumland | Doctoral student | Cocchi |
| Martin | Kuban | Doctoral student | Draxl |
| Manish | Kumar | PostDoc | Draxl |
| Inna | Kviatkovsky | Doctoral student | Ramelow |
| Caroline | Lau | Doctoral student | Limberg |
| Dennis | Le Plat | Doctoral student | Staudacher |
| Johannes | Lechner | Doctoral student | Heeg |
| Fabian | Lehmann | Doctoral student | Leser |
| Guiping | Li | Doctoral student | Bojdys |
| Jinzhao | Li | Doctoral student | Unger |
| Pauline | Liesfeld | Doctoral student | Hecht |
| Hu | Lin | Doctoral student | Rabe |
| Nicolas | Linale | Doctoral student | Ramelow |
| Lara | Lindloge | Doctoral student | Benson |
| Konstantin | Lion | Doctoral student | Draxl |
| Wenkai | Liu | Master Student | List-Kratochvil |
| Ye | Liu | Doctoral student | Pinna |
| Nikolaos | Livakas | Doctoral student | Rabe |
| Sven | Lubeck | Doctoral student | Draxl |
| Fabiana | Machado | Master student | Cocchi |
| Felix | Mann | Doctoral student | Ramelow |
| Jonas | Marschner | Master student | Plefka |
| Natalia | Maticiuc | PostDoc | Unger |
| Benedikt | Maurer | Doctoral student | Draxl |
| Dhruti | Mavani | Master student | Cocchi |
| Jacob | Mayer | Master student | List-Kratochvil |
| Tim | Meier | Doctoral student | Staudacher |
| Tino | Meisel | Doctoral student | Benson |
| Hala | Memmi | Doctoral student | Benson |
| Zhao | Meng | Doctoral student | Koch, C. T. |
| Dachi | Meurmishvili | Master student | Hohm |
| Enrico | Michael | Master Student | Schröder |
| Gustav | Mogull | PostDoc | Plefka |
| Subhadra | Mohapatra | Doctoral student | Stähler |
| José | Monroy Gómez | Doctoral student | Dumele |
| Juliane | Mörsel | Master student | Draxl |
| Max | Muehlbauer | Doctoral student | Kreimer |
| Johannes | Müller | Doctoral student | Koch, C. T. |
| Mira | Müller | Master student | Dumele |
| Jannes | Münchmeyer | Doctoral student | Leser |
| Edgar | Nandayapa | PostDoc | List-Kratochvil |
| Hampus | Näsström | Doctoral student | Unger |
| Hannah | Nerl | PostDoc | Koch, C. T. |
| Tilmann | Neubert | PostDoc | Balasubramanian |
| Ngoc Trung | Nguyen | Master student | Cocchi |
| Niko | Nikolay | Doctoral student | Benson |
| Laura | Orphal-Kobin | Doctoral student | Schröder |
| Raik | Otto | PostDoc | Leser |
| Anil | Palaci | Master Student | Schröder |
| Samuel | Palato | PostDoc | Stähler |
| Sebastian | Pallasch | Doctoral student | Dumele |
| Gopinath | Paramasivam | Doctoral student | Unger |
| Sayan | Paul | Doctoral student | Limberg |
| Thomas | Pekin | PostDoc | Koch, C. T. |
| Gari Yamel | Peralta Alvarez | Doctoral student | Kramer |
| Felipe | Perona | PostDoc | Schröder |
| Fabian | Peschel | Doctoral student | Draxl |
| Adam | Petrik | Master student | Dumele |
| Giulia | Peveri | Doctoral student | Forini |
| Gregor | Pieplow | PostDoc | Schröder |
| Allison | Pinto | Doctoral student | Hohm |
| Marlon | Placke | Doctoral student | Ramelow |
| Tommaso | Pregnolato | PostDoc | Schröder |
| David | Prinz | Doctoral student | Kreimer |
| Nakib Haider | Protik | PostDoc | Draxl |
| Siavash | Qodratipour | Doctoral student | Benson |
| Jannek | Räder | Master student | Cocchi |
| Muhammad Sufyan | Ramzan | PostDoc | Cocchi |
| H. M. Hamid | Raza | Doctoral student | Pinna |
| Timo | Reents | Master student | Cocchi |
| Carolin | Rehermann | PostDoc | Unger |
| Lea Marlen | Rektorschek | Master Student | Schröder |
| Bita | Rezania | PostDoc | Rabe |
| Seon-Young | Rhim | Doctoral student | List-Kratochvil |
| Santiago | Rigamonti | PostDoc | Draxl |
| Dominik | Ritter | Master student | Benson |
| Ronaldo | Rodrigues Pela | PostDoc | Draxl |
| Florian | Römpp | Doctoral student | Hecht |
| Maleik | Ross | Master student | Cocchi |
| Martin | Rothe | Doctoral student | Benson |
| Steffen | Rühl | Doctoral student | List-Kratochvil |
| Patricia | Russo | PostDoc | Pinna |
| Eleni | Sachs | Doctoral student | Hecht |
| Sergey | Sadofev | PostDoc | Koch, N. |
| Nikola | Sadzak | Doctoral student | Benson |
| Carlos | Sánchez Gutiérrez | Doctoral student | Dumele |
| Mario | Sänger | Doctoral student | Leser |
| Holger-Dietrich | Saßnick | Doctoral student | Cocchi |
| Benjamin | Sauer | Master student | Plefka |
| Patrick | Schäfer | PostDoc | Leser |
| Maximilian | Schebek | Doctoral student | Draxl |
| Tobias | Scherdin | Master student | Staudacher |
| Richard | Schier | Doctoral student | Cocchi |
| Joël | Schlecht | Master student | Dumele |
| Marcel | Schloz | Doctoral student | Koch, C. T. |
| Marco | Schmidt | PostDoc | Benson |
| Vincent | Schröder | Doctoral student | List-Kratochvil |
| Thorsten | Schultz | PostDoc | Koch, N. |
| Freerk | Schütt | Master Student | Cocchi |
| Philipp | Schwendke | Doctoral student | Stähler |
| Sherjeel | Shabih | Master student | Koch, C. T. |
| Chengxu | Shen | Doctoral student | Pinna |
| Canxin | Shi | Doctoral student | Plefka |
| Dongguen | Shin | PostDoc | Koch, N. |
| Gétulio | Silva e Souza Júnior | Master student | Heeg |
| Baljinder | Singh | Master student | Cocchi |
| Kai | Skrodczky | Doctoral student | Pinna |
| Selen | Solak | PostDoc | List-Kratochvil |
| Daniel | Speckhard | Doctoral student | Draxl |
| Josefine | Sprachmann | Doctoral student | Dumele |
| William | Staunton | Doctoral student | Benson |
| Elisa | Stephan | Master student | Draxl |
| Adrian | Stroth | Master student | Draxl |
| Marco | Stucki | Doctoral student | Schröder |
| Boubacar | Tanda Bonkano | Doctoral student | Stähler |
| Lin | Tao | Master student | Benson |
| Ellen | Teichmann | Doctoral student | Hecht |
| Johannes | Thürigen | PostDoc | Kreimer |
| Sebastian | Tillack | Doctoral student | Draxl |
| Cem Güney | Torun | Doctoral student | Schröder |
| Evgenij | Travkin | Doctoral student | Benson |
| Maria | Troppenz | PostDoc | Draxl |
| Tim | Turan | Master Student | Schröder |
| Olga | Turkina | Doctoral student | Draxl |
| Kilian | Unterguggenberger | Doctoral student | Schröder |
| Ana M. | Valencia | PostDoc | Cocchi |
| Maarten | van der Hoeven | Doctoral student | Schröder |
| Stefan | Velja | Doctoral student | Cocchi |
| Mara | Voiculescu | Master student | Draxl |
| Matthias | Volk | PostDoc | Staudacher |
| Cecilia | Vona | Doctoral student | Draxl |
| Tommy | Wachsmuth | Master student | Dumele |
| Isabell | Wachta | Master student | Balasubramanian |
| Yu | Wang | PostDoc | Pinna |
| Qiang | Wang | Doctoral student | Koch, N. |
| Rongbin | Wang | PostDoc | Koch, N. |
| Ross | Warren | PostDoc | Koch, N. |
| Peter | Weber | Master student | Draxl |
| Leon | Weber | Doctoral student | Leser |
| Michel | Wehrhold | PostDoc | Balasubramanian |
| Kilian | Weißer | Doctoral student | Limberg |
| Claas | Wieland | Master student | List-Kratochvil |
| Ewa | Wierzbicka | PostDoc | Pinna |
| Jakob | Wintergerst | Master student | Plefka |
| Siad | Wolff | Doctoral student | Limberg |
| Jonas | Wollenberg | Master Student | Schröder |
| Wenlei | Xu | Doctoral student | Pinna |
| Anur | Yadav | PostDoc | Balasubramanian |
| Vidya | Yadav | Master student | Cocchi |
| Mao | Yang | PostDoc | Draxl |
| Jiawei | Yu | Master student | Koch, N. |
| Tianshu | Zhai | Doctoral student | Koch, N. |
| Xiang | Zhang | Doctoral student | Stähler |
| Yichi | Zhang | Master student | Cocchi |
| Jun | Zhang | PostDoc | Pinna |
| Wei | Zhang | PostDoc | Pinna |
| Qingjun | Zhu | PostDoc | Pinna |
| Yannik | Zimmermann | Doctoral student | Staudacher |
| Nicolas | Zorn Morales | Doctoral student | List-Kratochvil |
| Fengshuo | Zu | PostDoc | Koch, N. |